Don't forget your individual engagements
Are you in the middle of Individual Tax Returns (ITRs) work? Then you want to read this.
21 July 2022
•
1 minute read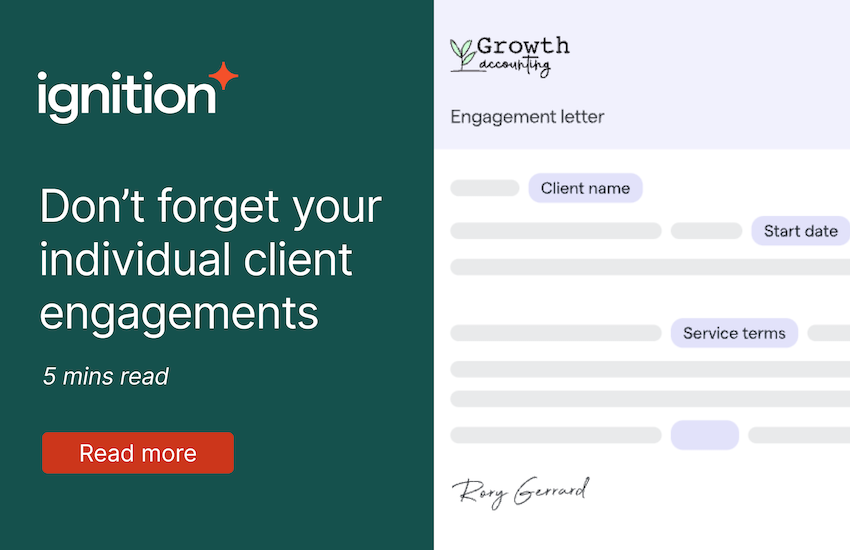 Individual Tax Returns (ITRs) are usually small fees that only occur once a year. So sending an engagement letter seems like a lot of work for little reward.
However, ignoring this vital and important process can expose a tax agent to not only compliance risks but also the risk of not getting paid and a misunderstanding of the service you are offering.
If you would like to find out:
why engaging your individual clients is a must, 

what do the regulators say about individual engagements, and 

how you can streamline the process with the right technology
>>Click here to continue reading<<
Engaging your individual tax clients should not be a hassle. By using the right tools that help you follow the regulators guidance, stay compliant and eliminate the burden of chasing small payments, you can streamline the whole process.
---
About Ignition
Ignition is the world's first client engagement and commerce platform for professional services businesses, to streamline how they engage clients and get paid. Over 5,000 accounting and professional services firms around the world use Ignition to win new business with impressive digital proposals, engage clients with a clear scope of work, and get paid on time by automating payment collection. Ignition also integrates with leading business apps such as Gusto, QuickBooks, Xero and Zapier to automate time-consuming tasks. Founded in 2013 by a progressive accounting entrepreneur to find a better way of doing business, our goal is to help customers grow, be more efficient, and create win-win client relationships. To date, we've helped facilitate more than 2 Million client engagements and over US$2 Billion in client payments. Practice Ignition has teams in Australia, Canada, New Zealand, The Philippines, South Africa, US and the UK, with over 150 employees globally.
To learn more visit ignitionapp.com