Dedicated resources, inspiring stories and the latest industry news & views
EXPLORE NOW
Intuit QuickBooks Get Connected: Education, inspiration, training and connection.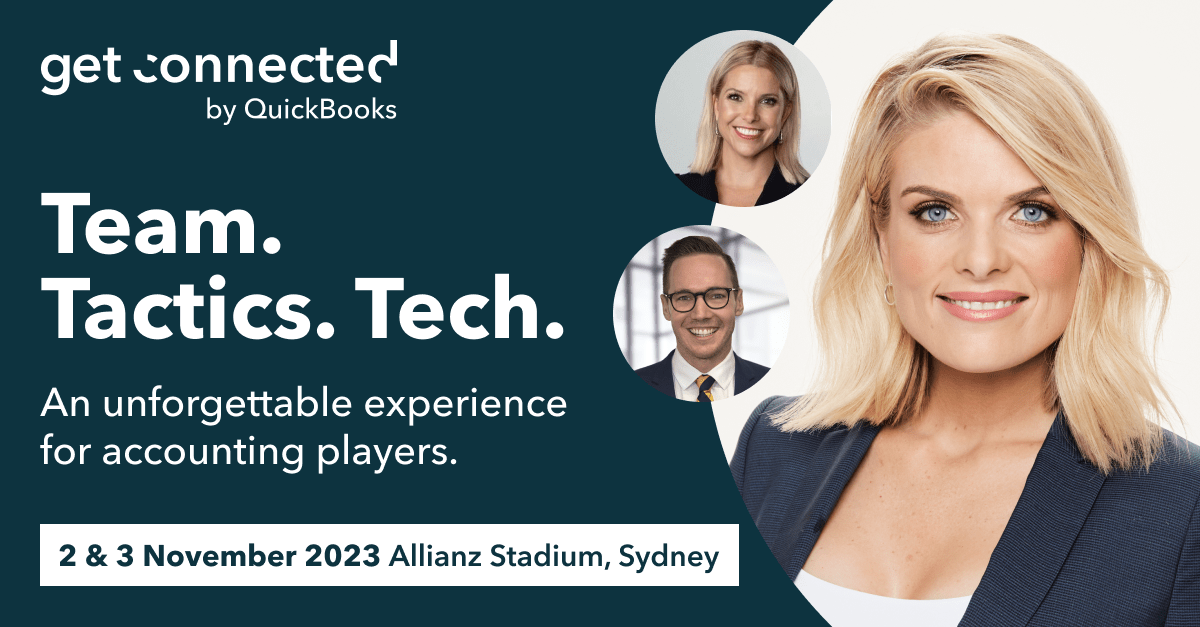 Tactics. Teamwork. Tech: 2 inspirational days of CPD accredited training to take your firm to new heights!
5 reasons to book your place today and join us for two days of education, inspiration, training and connection.
Join us on 2&3 November, Allianz Stadium, Sydney. Register now with code ADVIP and save 50%.
Can't make it to Sydney? Read on for our virtual option! Register now
1. Inspirational key note speakers from leaders in their field
Discover how to create a winning mindset, prepare for a changing profession, and energise yourself and your team with insights from former Matilda Amy Duggan, futurist Dr Ben Hamer, United States Air Force Fighter Pilot Daniel 'FuZZ' Walker, leading sports journalist and broadcaster Erin Molan, and expert business and sales coach Tom Panos.
2. Your game plan for success: Learn from the leaders
From future-fit strategies to overcoming today's talent crunch, accounting and bookkeeping experts share their tips to help you thrive, not just survive. Choose from sessions covering streamlining your processes, getting paid on time, growing your business, mastering AI and more. See all speakers.
3. Get a ringside seat and train with the best
Discover tips, tools and tricks to save you hours each week with the QuickBooks Suite. From the basics to power users, see how the pros are mastering payroll, workflow, tax prep, reporting and more with expert-led, practical training. PLUS: Your sneak peek at QuickBooks Advanced. See all sessions.
4. Score 10 CPD hours
Be inspired, hear about the latest trends reshaping the profession, and learn practical skills to save time and effort. Attending Get Connected in person also earns 10 CPD hours.
5. Extend your team with networking and entertainment
Meet leaders from across the accounting and bookkeeping professions, connect with peers, and extend your professional network. Your all-inclusive ticket covers all sessions, behind the scenes tours of the stadium, meals, drinks and evening entertainment in the sky bar with APRA Award-winning musician Kim Churchill.
Save 50% with code: ADVIP
RRP $350 $175
Latest Articles
view all