Every year, the accounting reporting applications industry seems to double. Each year it becomes more of the same and I can't see any massive distinctions between the products on offer. I have used most of them, and they are all good, but I couldn't see a clear market leader emerging. I call this fight for market dominance the 'reporting wars'.
Last year I wrote an article on the Quantification of Things. It was basically my wish list for management analytics of the future. You should read it if you want a full primer on the Reporting Wars. In short though, the idea is that in the not distant future all businesses will be able to aggregate all vital metrics from various applications into one single executive dashboard. This data will be real-time, accurate and relevant (Wow, it almost sounds like the qualitative characteristics under IFRS).
When I'm sitting down with every client I ask them four very powerful questions (mostly to garner insight into the future of accounting):
Would you rather 90% accurate information today, or 99% accurate information +14 days after EoM: Everyone in business says 90% now please.

What metrics are important with you: I get the obvious revenue growth, gross margins and EBITDA (Note: all P&L metrics) because they're talking to an accountant, right?

Finally, if you could pick any metrics, not just financial, what would you choose: Then I get a full shopping list metrics including web, social media, lead gen, customer acquisition, employee engagement, customer net promoter scores.

Then I ask, if you could only pick either the metrics in question two or question three which would you choose? They all pick 3.
Business owners and executives alike want to see the correlation between their twitter activity to revenue. They want to see if their investments in employee engagement are having an impact on sales to wage ratios. They want to see if the new initiative they rolled out reduced their customer churn rates. They want to see how the weather is affecting sales at their shops, then use that data to plan rosters. This data is currently not included in the humble financial statement. Honestly, it's not even in our current management analytics solutions. That being said, we've come a long way quickly.
I understand that even just ten years ago we didn't have the technology to capture these non financial metrics properly at a reasonable price (especially for SMEs). Hell, we barely had the technology to produce timely and meaningful financial reports, let alone fancy dashboards. But, these days thanks to the democratization of data, we are starting to get this technology at a very low cost.
It's my hope that a clear market leader will emerge and the technology is only going to continue to improve. Here's what I've seen transpire in the last five years:
Get financial data in the cloud, with a truly open API and real time bank feeds.

Done.
Get reporting and management analytics tools to display this data into meaningful information.

Done.
Get apps that report on all other business data. 

Starting.

Though there's much more work to come as users need native connections, not CSV imports.
Integrate

any

possible data into a single dashboard that that is totally

customizable

and is timely, accurate and relevant.

Not done.

This is the current arms race that is the Reporting Wars.
I'm not sure who wins the reporting wars. I am more interested in who you think is going to win and why.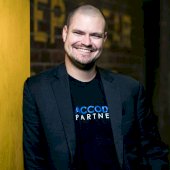 Chris Hooper is an accounting futurist, and current CEO of Tech Accounting firm Accodex. He is also a director of the Future Accountants Network, a member organization on a mission to educate tomorrow's accountants. He is a regular on the speakers circle and also consults to accounting practices to help them modernize their firms.
Accodex Partners was awarded Innovator of the Year at the 2015 Australian Accounting Awards.