Cloud options are accessed as a service over the internet, generally by paying a monthly subscription, and typically described as Software as a Service (SaaS).
Some software providers, successfully gaining momentum in the marketplace, boldly offer cloud-only solutions, such as NetSuite or Salesforce. Other providers are still offering traditional 'on-premise' solutions, where software is installed and run on the organisation's local server or desktop.
With the emergence of cloud-based systems and the increased accessibility of the internet (both from a cost and speed perspective), a very poignant question has come to light. As well as identifying which business system has the best fit from a functional perspective, decision makers are now faced with the question of going cloud versus the traditional on-premise solutions.
Could a cloud solution be right for you?
There has been a substantial level of activity and market announcements in relation to the opportunities that cloud has introduced in the marketplace. According to leading technology researcher, Gartner, cloud computing is one of the four technology priorities for chief information officers in 2014. Vendors such as Salesforce.com with their CRM platform and NetSuite with an end-to-end business management platform are generating a lot of hype and also obtaining a large number of new clients who traditionally would have used an 'on-premise' installation of their software.
Could an on-premise solution be right for you?
While worldwide spending on public cloud is one of the most dynamic growth areas, with 18 per cent growth anticipated to deliver a US$130 billion market by 2014 (source: Gartner Research), it is important to note that this is only a small portion of the total anticipated IT spend, forecast to exceed $2 trillion (source: Forrester).
A majority of software installation spend has been, and continues to be, 'on-premise', driven by:
• significant legacy systems already in place and the existing skill set of employees;
• the 'comfort factor' of having your software at 'arms' length', being accessed only atwork; and
• the fear of security and privacy breaches of the cloud model.
There is certainly choice in relation to the technology that can be utilised to deliver the business solution, but the decision as to which is better for the organisation should be based on the alignment to business objectives and potential benefits to the organisation.
Every organisation will have different requirements but the following questions will assist to determine whether an on-premise or cloud solution is the best suited to your organisation.
• Is there budget available to purchase software licences upfront?
• Does your organisation have internal IT capabilities and capacity to provide ongoing support and maintenance?
• Does the organisation have specific business processes that require substantial or agile custom development?
• Is your industry subject to compliance reqirements that requires your data to be stored locally?
• Do you need to be able to use the business system anywhere, anytime?
• Do you require close integration with other business systems?
The following diagram aims to provide you with some insight into the trade-offs between the solution types and how they align with your business requirements.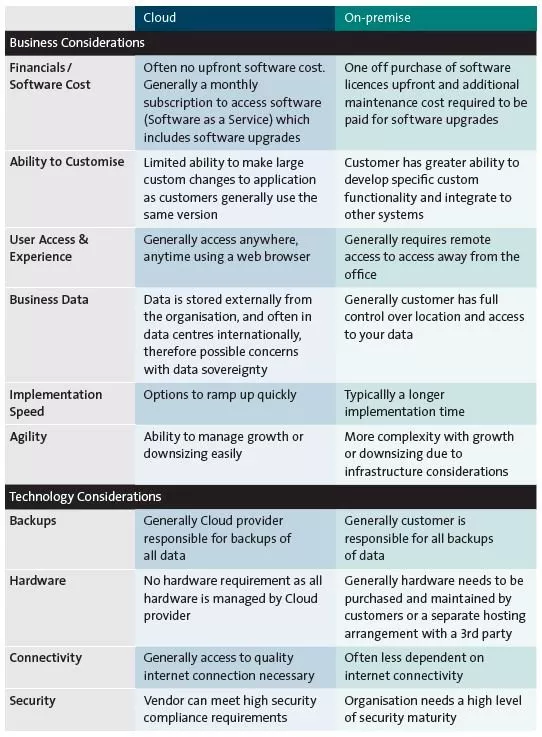 The key take-away point is this: be clear on the business goals, now and into the future, and use that to measure against the benefits and risks of both options. Performing a structured evaluation process against a clear set of criteria will help determine the trade-offs between solution types. There are benefits for going cloud now, but this must be carefully assessed for each organisation's specific business needs and risk appetite.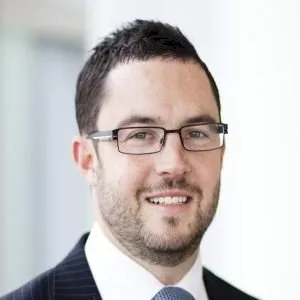 Neil is a Principal Consultant in the IT Consulting division at Pitcher Partners. He has over 13 years experience in a variety of ICT roles and has an interest in both the business and IT issues that organisations face. Neil has utilised his strong analysis and management skills to provide a variety of technology solutions that have aligned with financial and strategic goals.