According to PwC, 88 per cent of financial institutions globally are increasingly concerned about losing revenue to emerging fintech innovators.
Rightly so, one only has to look at AfterPay's post-IPO performance to understand the explosive growth in the fintech space here in Australia. This is money coming directly off the top line from the banks.
It should come as no surprise that investment in the fintech space has increased at a compound annual growth rate of 41 per cent over the last four years. Most of this investment is coming from the banks by way of joint ventures, M&A and venture capital.
For a typical compliance drive accounting practice, fintech is not a huge threat or consideration, nor will it be. Understanding of this space is more important for those firms that are also engaged in business advisory and wealth practices. For these types of accounting practices, innovations in fintech affect both them and their clients.
The first thing you need to understand about fintech is the different sub-sectors in the space. From there they can explore the possible impact to your clients.
Funding: On the business side, you can finance your business in a number of ways with either debt or equity; except these days the bankers are starting to get pushed out of the equation. Fintech companies are building marketplaces, and matchmaking those with surplus capital seeking higher yields with those seeking capital.
This isn't just limited to business, individuals are able to crowdfund from their social circle for when tragedy strikes, or borrow money from the crowd using peer-to-peer lending to pay off their credit card.
Transactions: The all too familiar PayPal is simple example of a fintech company disrupting the banks' merchant business. There are now hundreds of payment applications to suit myriad niche purposes.
The emergence of crypto currencies such as BitCoin has allowed us to transact with each other without using the bank as an intermediary. This has huge implications for emerging economies where the majority of the population are 'unbanked'.
Wealth: Wealth is being disrupted from both ends of the value chain. On one side you have a whole new world of asset classes being opened up. If I wanted to I could buy half a share of Tesla and gift it to a friend for their birthday in less that five minutes. A world typically reserved for sophisticated investors, now, I could get exposure to a portfolio of unlisted private companies for $100.
On the other side of the wealth coin, there have been innovations on how we manage our wealth. This can range from robo-advisers that will automatically adjust your portfolio to whole of wealth management ledgers that run off your smart phone.
Insurance: Lastly, insurance is getting smarter. The addition of cutting edge technology into the insurance business has enabled new insurers to offer more competitive rates by improving accuracy on risk assessment.
The middle men are slowly being pushed out of this market too. Online insurance marketplaces are scouring the web to offer their customers a choice of the most appropriate policies.
As a minimum, accountants with wealth and business advisory practices should stay abreast of developments in this space. This way they can educate their clients about the ever increasing options available.
As an extention, I do believe that there are new service opportunities that will come out of this space, and that's why I'm keeping a very close eye on it.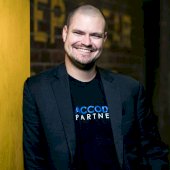 Chris Hooper is an accounting futurist, and current CEO of Tech Accounting firm Accodex. He is also a director of the Future Accountants Network, a member organization on a mission to educate tomorrow's accountants. He is a regular on the speakers circle and also consults to accounting practices to help them modernize their firms.
Accodex Partners was awarded Innovator of the Year at the 2015 Australian Accounting Awards.