5 easy ways to increase transparency in your AP process
How to implement automation in your accounts payable process and employ end-to-end financial compliance
11 October 2022
•
4 minute read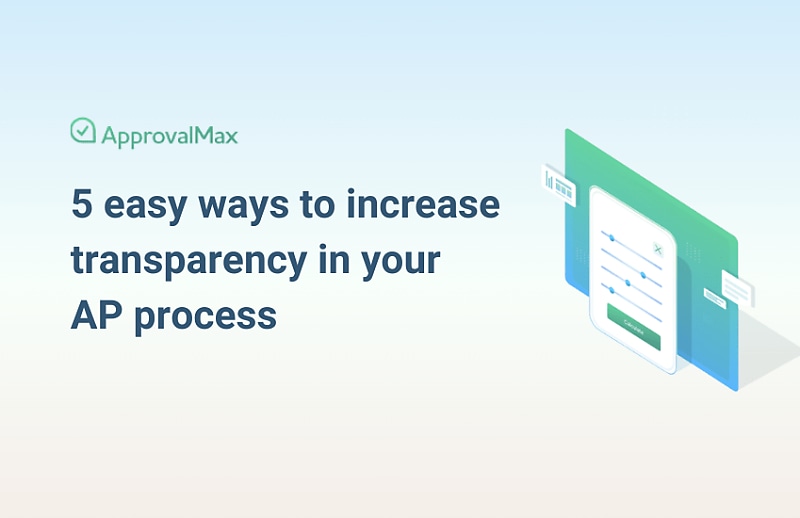 The accounts payable process is a critical function in any finance department – ensuring bills are paid, implementing spend control measures, compliance, reducing costs, and maintaining healthy supply chain relationships are just the tip of the iceberg. 
To ensure that your accounts payable processes are working efficiently, it pays to regularly review your finance team's techstack as there are lots of software solutions out there to help you improve your AP process and reduce manual tasks. 
Here are 5 reasons why automation and technology are crucial to helping you achieve your AP goals, and how it can optimise your business processes.
1. Move your accounting to the cloud for improved processes and data
Combining cloud accounting tools like Xero with an integrated app stack will help you eliminate data silos and will provide a clear picture of company spending and efficient automated workflows. 
A carefully selected app stack will save you time and effort, and enable your finance function to focus on the important tasks that bring real value to your business. 
2. Implement OCR and switch to digital invoices to cut costs
Using paper invoices in your accounts payable process is costly. When you add together the time costs of processing paper invoices, printing and storage costs, and indirect costs such as manual data entry and correcting data entry errors afterwards, it's easy to see why paper invoices are a costly, painstaking process.
Instead, switch to digital invoices. OCR tools can scan your invoices and feed the data into the accounting system, paving the way for a paperless invoice approval process. Connect your OCR up with an automated approval tool like ApprovalMax, and any invoice that's added to your accounting system will be sent to the right approver automatically.
3. Monitor your budgets closely to prevent overspending
To make sure you're not going to overspend, you can include budget checking in your accounts payable process. Set clear budgets for each expense category and establish a process to monitor them in a way that does not affect team productivity.
In ApprovalMax, invoice approvers see the relevant budgets right next to the invoice on the same screen, which saves them a lot of time and effort, and enhances spend control. 
4. Establish an approval matrix and simplify your processes
As an organisation grows, it's important to set up a delegation of authority policy to outline detailed authorisation rules. Your approval matrix should specify DFA limits, who's responsible for approving particular types of expenses, which amounts need to be approved by several stakeholders, and which expenses can be approved automatically. Thankfully, when you set up an approval matrix in ApprovalMax and delegate authority to the right decision makers, you always have the option to edit the matrix in the future to add more rules or change decision makers, if and when required.
5. Use approval automation to streamline the approval process
Are you managing purchase order and invoice approvals by email? Maybe you even print them out to get signed approval on paper even though you already have everything in the cloud. As we've touched on, manual processes for any part of your approval process can create bottlenecks, and even introduce errors that could land you in a lot of hot water if mistakes are made. 
Instead, tools like ApprovalMax can be implemented to save yourself time and effort each week. Setting up a multi-level approval workflow means your POs or invoices are automatically routed to the appropriate decision maker. The rules you define in the setup stage will do all the heavy lifting and reduce the amount of thinking you need to do. You can send automated notifications and reminders to approvers to keep invoices moving along. In ApprovalMax, there's also the option to add steps for budget checking and invoice matching in the approval process, and the added benefit of automated audit trails and fraud detection capabilities.
To learn more about how ApprovalMax can be used with Xero, take a look at our resources library.
Start your free 14 day trial of ApprovalMax to see how it works!