How this Perth Bookkeeper saves 4 hours on manual tasks per client
Optimising your time and data with the full Dext suite
25 May 2022
•
5 minute read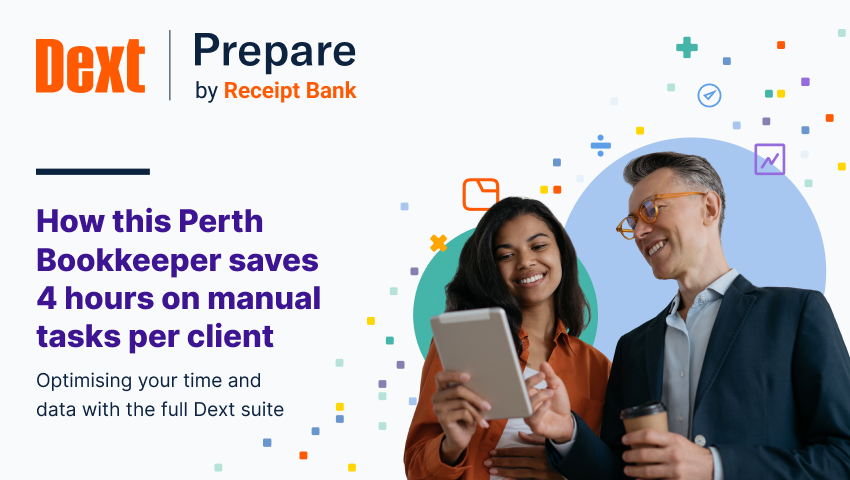 We recently sat down for an interview with Peter Broberg; a sole practitioner who uses multiple applications in his tech stack. After becoming a regular user of Dext Prepare, the Perth-based bookkeeper quickly adopted Dext Precision and Dext Commerce to continue building a profitable and efficient practice.
What is the most time-consuming part of your job?
Chasing clients for paperwork is the most time-consuming part of the job. It can be very frustrating chasing up receipts and other paperwork because I can't do my job as a bookkeeper until I have received all the documents. It is also a requirement by law that I have everything I need to lodge Business Activity Statements (BAS) and other records.
Another frustration is being a business owner and bookkeeper simultaneously. It can be difficult to find the time to work on the business and in the business. There is the operational side of bookkeeping, and then there is the marketing, networking, and administration side of being a small business owner. Particularly as I look to grow the practice. In addition to bookkeeping, I also offer an advisory service.
How has Dext Prepare helped?
Dext Prepare puts the onus on the client to ensure they upload their paperwork into the app. I've always used Prepare from the early days when it was Receipt Bank. It's a tool that reduces my time significantly. I have a client paying $500 a month for their bookkeeping, and with Prepare, the total time I spend has reduced from six hours to two hours. That's a pretty good hourly rate for a bookkeeper.
They also don't consider me doing any less work because they are getting their bookkeeping done at the end of the day. I happen to be able to do it faster than I could previously, which gives me more time to grow the business. That's what it's all about, and that's why it's worth the cost.
"The clients are also happier because I'm not constantly emailing them for paperwork. The process is clean and simple through the app."
How important is the cost of technology to you?
Cost is critical. When you have a tech stack, the costs can add up. I spend about $800 or more a month on my app set. The cost can put off some bookkeepers. But they need to consider the time saved and work out if that particular piece of technology adds to their profitability.
The first thing I always look at is the cost. You need to determine if the money spent on tech will reduce your time on the work and what you will do with the hours saved. Say, if an app costs $30 a month but would save me five hours a month, then I'd happily pay for it.
Why did you decide to start using Dext Precision?
I was looking for a specific tool to help me with client files, mainly when it came to prospecting. I considered some other tools on the market but landed on Dext Precision because it allows me to review files without actually going into them. Currently, I primarily use Precision when providing quotes and proposals for new prospects. When a client wants me to review their file, I load it into Precision, and I can see all of the issues that are happening with the file and what needs to be done. For example, duplicate records and numerous transactions waiting to be reconciled. I charge a fixed price based on the number of transactions that go through their accounts, which is where Precision becomes very helpful.
There are also great ways to manipulate data. Every good bookkeeper loves a pivot table, and it is part of the Sandboxing feature in Precision. It is a tool to help me with business advice. If a business owner came to me and asked me to review their books, I would run them through Precision and tailor it to give me the insights I required to provide advice around solutions.
Why did you start using Dext Commerce?
I have a client who has Shopify stores and a physical store about to open up. He was looking for a solution to streamline the data processing and make it more accurate. Before using Dext Commerce, he could see only the settlement amounts coming in from Shopify.
I had a look around to see what technology was available. What I found was a bit cost-prohibitive for this client. When I learned that Dext was developing Commerce, I was very excited. I even spent some time with the developer and was able to see how configurable the tool was. It was perfect for my client.
The cost was one deciding factor, but the functionality really pushed me to use it. I can now actively promote my services to e-commerce businesses with confidence.
About Dext
Dext is an automated, multi-product accounting solution – designed to reduce your workload and optimise your time. We believe that accountants and bookkeepers, like you, are the backbones of every successful business. With three products and a wide range of integrations across the accounting space, it's our job to make sure you get the most out of the data you're working with.
Through accurate and automated extraction, clean up tools, and digital sales reconciliation, we provide you with all the information you need – whenever you need it. With less time spent on manual tasks and minor details, Dext allows you to focus on adding more value to your business and your clients.
Dext collects and extracts your paperwork with 99% accuracy, then automatically processes it to your accountancy software, which gives you more time to focus on work that adds value.
Dext simplifies the collection and categorisation of data from e-commerce marketplaces, POS and payment platforms. All into a consolidated view and all in real-time.
A toolkit of intelligent data cleanup, workflow and compliance tools designed for Accounting and Bookkeeping Professionals.
Ready to see what Dext's solutions can do for you? If you have any questions or want to find out more about our products, we'd love to hear from you.
Get in touch here or call 1800 107 451 and one of our friendly team will be in touch shortly. 


---