We agree with the comments by McKinsey Australia's top strategy experts in the article, 'McKinsey's blunt warning for business' (Australian Financial Review, June 16 2020).
The strategy experts view (short form)
They see COVID-19 exacerbating the already visible gap between top business performers and laggards in different industries. It's all about pursuing new business models that are right for the times. It's not about the annual planning and budget cycles of 'business as normal'. 
Things are changing too fast.
The strategy experts see business moving to a quarterly plan and budget for the key areas where there is certainty in the industry but also a requirement for alternative scenarios kind of 'on stand-by'.
Every company is more or less in startup land due to COVID-19
In COVID-19 times new ventures and established companies face the same issues of uncertainty into the future. Forward assumptions are untested. Annual budgets based on such assumptions are not budgets as we knew them. They're more like the projections of a startup. Projections change as you learn what works in times of rapid change. 
The strategic expert recommendations apply to all sizes of business. It means you may consider some of your projections to have the certainties of budgets. Yet, you also need the flexibility of alternative scenario projections for identifiable uncertainties. 
Tools for COVID-19 times and what lies beyond
Cerebiz offers forward-looking and cloud-based Financial Management tools for MYOB and Xero that go beyond accounting. And specially designed for Accounting Practices, and their SME clients. 
Availability on a subscription basis means we have to deliver value to our clients every subscription period for them to renew. It's a business model that provides predictable repeat revenue as long as we perform to client needs and expectations. These keep evolving rapidly in the software business.
Cloud technology means Cerebiz clients have become accustomed to seeing their business analysis results in their Internet browser or Cerebiz mobile device App on-demand 24/7. 
In tandem with this, their analysis, planning, and performance reporting cycle has reduced over recent years from annual to quarterly to monthly. 
Cloud-based Financial Management for Budgets, Forecasting and Cashflows
The Cerebiz Budget Module imports data easily from different sources. Included are previous period actual and budget data held by Cerebiz or external budget data sources.
The import action into a new file forms the 'new' draft budget. 
Budgets increases or decreases for the new forward period may be applied overall or by groups or individual budget figure. Figures can be automatically spread equally over a period, with adjustments for seasonal variations. A note facility is available for any figure. 
Once the 'new' budget creation process is complete, it is saved and automatically applied at a set future date.
Deploy Variable Realtime What-If scenarios
An alternative budget scenario is easy to visualise with the aid of sliders for percentages and a graph.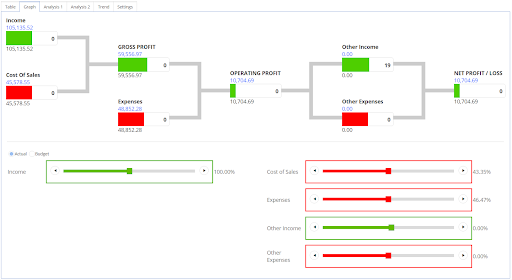 Use the Cerebiz integrated What-If facility to create and save several scenarios; earmark the preferred scenario for the next period to apply automatically as from a pre-set date, easy!. 
Review Actual Trading Results to Budget Variances without manual data entry
Once the new budget period commences, the actual figures are collected automatically from the accounting system. Review any variances.
Where required, due to changed business circumstances, a forecasting facility is available. 
A 'What-If scenario, including a previously saved scenario, may be used as the forecast. 
Forecast to end of Quarter and end of Year made up of actuals to date plus forecast figures enable owners and managers to direct the business better. 
Automatically link your Debtors Ledger to Cerebiz Cashflow Projection
Cerebiz offers an automated and comprehensive Cash Collection and Automated Cashflow projection module, which includes up to date Forward budget/forecast figures from your own Debtors Ledger. For MYOB Practices and SME's, this could be your ARL debtors balance or your AE debtors balance using our Cerebiz Integrator tool. 
Cerebiz provides you better Financial Management intelligence to direct and run your business through COVID-19 times and beyond.
No one's saying, 'let's go back to normal.'
It's telling that the strategy experts have not had any business leaders talk to them about 'going back to normal'!
If you identify with the above issues and lack the right tools in your Practice or for SME Clients, why not explore doing this in much more automated time and cost-saving fashion? 
Check it out now at Cerebiz.com or call 02 8212 4209