As accountants, we are responsible for managing our clients' finances and always have their best interests at heart. When the tax season comes around, you do your job and make the fee from refund option available to your clients. However, what may not be visible is the administrative burden of processing the fee from refund payment. Manual processing is a painstaking process that throws up multiple challenges to accounting firms. 
We get it. We were facing the exact same administration challenges at our firm which is why we developed Refund Manager. So when implementing a fee from refund service in your firm, we recommend all accountants consider 3 key factors to streamline the service and increase your profitability.
Keep it simple
Creating spreadsheets on spreadsheets that require manual entry will increase the time required to manage and chew into your profit. It can take up to 15 minutes per client to input the data, reconcile the EFT and process the payment alone. Not to mention the additional time if one small mistake is made when manually inputting bank and other details. 
We recommend you look to implement technology and a process that works in with your existing tax lodgement systems that saves work rather than creating more work. 
Simplicity is at the core of how Refund Manager operates. We designed the software to work in with your existing tax lodgement systems and trust account. Our clients have reduced their fee from refund processing time by up to 90% in some cases. All you need is 2 minutes to:
    Enter your client information on our site.

    Upload your EFT report.

    Generate the Direct Entry Credit file to upload to your bank's site. 
Keep control 
You are responsible for your client's money from the time that it leaves the ATO and enters their bank account. Best practice is to keep and maintain your own trust account instead of outsourcing this service. However, this presents additional challenges such as managing transactions and reconciling between your spreadsheets, bank account and accounting software etc. that if managed manually becomes a nightmare at audit time. 
Refund Manager works in conjunction with your systems. You maintain 100% control of your trust account and automatic tracking and reporting makes audit time a breeze.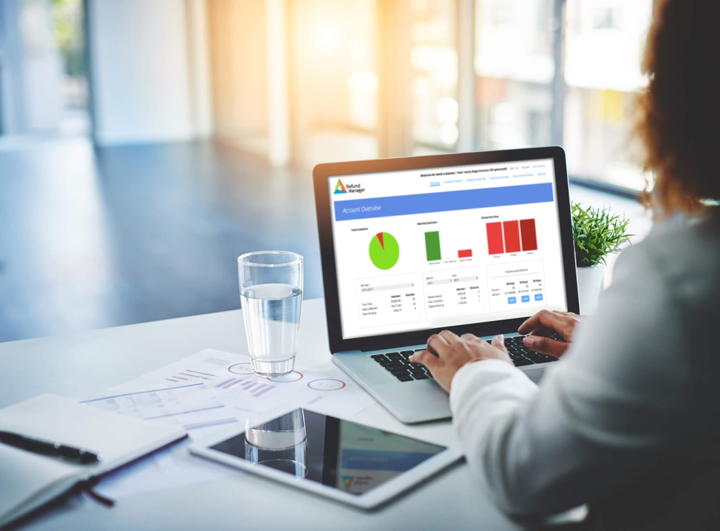 Make it cost effective
Whether or not your charge for the fee from refund service, your profitability depends on how effectively you keep your costs low. If implemented poorly, a good portion of the fees that you charge for the fee from refund service are instantly soaked up by the administrative cost. Furthermore, lost fees due to client's not receiving a refund leaves little margin in the end for providing this service.
Refund Manager is the most cost effective solution to processing fee from refund returns. Whilst other providers charge over $10 per return for an outsourced service, our unlimited returns means our clients can process returns for as little as 50 cents. Additionally our software allows you to direct debit your client's account in case of a default payment. 
For example, a client who processes around 1,000 fee from refund returns each year has reduced their processing hours by 90% and their operating costs by 77% after switching to Refund Manger. This represents a savings in absolute terms of $5,750 per annum which goes straight to their bottom line.    
Let's recap
Providing fee from refunds to your clients doesn't need to send a shiver down your spine. Refund Manager is an easy to use tool that will help you to simplify your service, allow you to keep 100% control of your trust account and client's money and all whilst increasing your profitability. We wanted to save time and money, and that's exactly what you'll do. If you would like to learn how Refund Manager can improve your firm's profitability, book a no obligations demo with one of our team members today!