The evolution of a technology that impacts on an industry or market sector can be disruptive. However, this doesn't mean that those businesses working across that sector are in danger. In fact the opposite is true: businesses such as accountants and bookkeepers who see advancing technology as the death knell of their businesses, are actually in a very strong position if they act now.
Of course technology has empowered individuals to take more control of many aspects of their lives using mobile devices. Using these devices to manage their financial wellbeing has been massively popular, as cloud-based accounting and bookkeeping services have developed, along with powerful apps that allow fast and efficient access to these mobile services.
Automating a task has been for decades a means to improve efficiency and, of course, reduce costs. Today the automation of financial tasks is increasingly being achieved with an app.
Scott Fleszar, vice president, strategic marketing at Tax & Accounting, Thomson Reuters noted that: "The mobile app enables practitioners to bring their clients a whole new dimension of functionality while maintaining their own branding and identity. It's a way to collaborate and stay productive without being chained to a PC, to automate the delivery of information and build better relationships, and to provide a level of service and sophistication that wasn't possible for small and mid-sized firms in the past."
Can an app replace an accountant or bookkeeper? Many in the industry are asking themselves this question as they witness the steady migration to online accounting systems. The answer is that an app can offer a level of automation, which is really what individuals and especially businesses are actually looking for. As there are now apps to manage just about any aspect of a business today, it makes sense to also use an app for accounting and bookkeeping activities. But an app offers much more than this.
Personalisation is of course where accountants and bookkeepers can wield their expertise via their own app.
Your practice's app can deliver a number of benefits including:
1. more convenience to your clients
2. intuitive user interfaces
3. offline working
4. access to native features of the phone or tablet
5. apps are purpose-built for their devices – websites are not.
The level of automation that an app can deliver to your clients will surprise them, as app development now allows for a level of customisation that ensures each app is designed and developed for a particular user. This level of personalisation is often missing with many apps in other sectors. They appear to offer automation, when in fact they only have generic features, which can't be customised by the user. 
Changing relationships
For accountants and bookkeepers across Australia the role that they play in the financial life of their clients is changing. Businesses and individuals flock to cloud accounting services, as they offer efficiency gains, which ultimately save time and money. But the relationship they have with their bookkeepers and accountants are still valid and appreciated. Simply opening an account with FreshBooks for instance doesn't replace the expertise of a seasoned accountant or bookkeeper.
The app that you can create for your business can be your client's window into other essential services. Integration is a key driver for all app users who want to do more with fewer apps. Here the accounting app that can be created is a great example where integration is a core driver for users to adopt the app as their primary way to not only manage their accounts, but also connect with their accountants and bookkeepers when help and advice is needed.
As a channel to deeper and lasting relationships with clients, the app has proven itself to be a favourite with consumers and businesses. The app continues to be the primary way that mobile devices are used in an app ecosystem that continues to thrive and diversify. For accountants and bookkeepers across Australia the question is now not whether their practice needs an app, but rather can it afford not to develop an app?
Clients are managing every aspect of their financial lives from their mobile devices. They already know that your practice has the expertise and experience to advise them, but they want to make those connections via app. And app that offers comprehensive, integrated financial services will always be favourable. Apple often talks about their technology that just 'works'. Bookkeepers and accountants in Australia need to ensure they can deliver their service that simply works for their clients. They can easily do this via their own tailor-made app.
Joining the app economy
The app economy is thriving. According to the App-Happy Australia Survey from McCrindle Research, 50 per cent of respondents use an app every day. Deloitte also found that 57 per cent of Australians consider their phone their 'go-to device' for services.
And the app economy is alive and waiting for your firm's app. According to the latest Australian Lifestyle Index, 89 per cent of Australians now own a smartphone, 60 per cent own a tablet PC, with 32 per cent of respondents who don't own a smartphone planning to purchase one in the next 12 months.
For accountancy and bookkeeping businesses across Australia, an app created by MyFirmsApp specifically for their business offers 10 formidable advantages:
1. The only app that has passed financial compliance checks.
2. Endorsed and recommended by financial institutions.
3. Creates closer working relationships with clients.
4. Develops mobile services tailored to specific business partners.
5. Powerful services that use the native features of the smartphone or tablet.
6. A new 'always on' communications channel.
7. Differentiate from competitors.
8. Connect with clients instantly with push notifications.
9. Offers the accountancy practice's expertise at their clients' fingertips.
10. Join the app economy and become a technology leader.
There is little doubt that technologies such as the cloud are transforming accounting services. Coupled with the rise of mobile digital devices a perfect storm has developed, which places powerful financial tools in the palms of individuals and business owners. This means accountants and bookkeepers across Australia must react to stay relevant to their clients.
Proven to be a tested means for leverage expertise and knowledge, developing an app for your practice enables you to tap into the burgeoning app economy and place your practice at the forefront of your sector.
Where you lead others will just follow.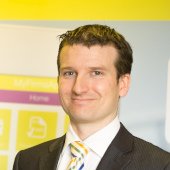 Daniel Richards is the global Head of Client Services at My Firms App. He specialises in empowering professional service firms to engage, communicate and develop stronger relationships with both current customers and profitable, hand-picked new clients using the very latest technology – in particular, Apps.
Internationally, there are few with Daniel's deep understanding of accountants, law firms, IFAs and financial planners. He has presented to thousands of firms and personally delivered over 2500 one-to-one sessions around the world.
As a result, he is one of the most sought-after consultants, advisors and presenters on mobile technology in this rapidly changing profession.
Daniel is passionate about helping professional firms embrace the latest technology to differentiate their firms, stand out, save time and ultimately become more profitable.