Demand makes accounting firms a seller's market
Prices have been edging up for quality practices since the pandemic, says broker DMY. 
21 November 2023
•
14 minute read
Demand for accounting firms is running hot with more than 70 potential buyers for each listing and practices changing hands for higher prices, says Melbourne-based sales broker DMY.
You're out of free articles for this month
To continue reading the rest of this article, please log in.
Create free account to get unlimited news articles and more!
Its latest data showed that most firms were selling within 90 days and fetching their asking price, with the benchmark steadily moving up over the past 12-18 months, said co-founder Mark Emney.
"It's a function of demand," he said, "there's just so many more buyers out there than sellers."
"Lots of people have a strategy of wanting to grow by acquisition, but there aren't enough sellers to go around. That's what's pushing the price up."
He said most of the recent sales were pure accounting practices but DMY data included some with bookkeeping or financial planning operations, as well as pure bookkeeping practices and specialist audit firms.
Almost all buyers came from within the tax industry and from a range of practices, but price was seldom the clincher in a deal.
"The biggest determinant of who the successful buyer is, ultimately comes down to cultural fit," he said. "So the very, very large firms are not buying small practices because the small practices aren't typically looking to sell to them."
"They're always concerned as the vendor, 'Am I going to get on with a buyer, are my team going to fit in with the buyer, and are my clients going to fit in with the buyer.
"So cultural fit is critical. But you do see all sorts of buyers in the market. For any practice we sell, there will be buyers that are smaller, of a similar size and also much larger."
But he said the traditional rule-of-thumb on price, that a practice would change hands at dollar-for-dollar parity with its annual fees, was out of date.
"People have moved away from that old sort of paradigm of everything sells for 100c in the dollar [of annual fees] and recognise they're prepared to pay more for good quality practices."
Its data on recent sales showed regional practices selling for an average of 107c in the dollar and metro practices for 114c in the dollar, an increase of 4c compared with six months ago. Only one sale went at parity and some went as high as 130c.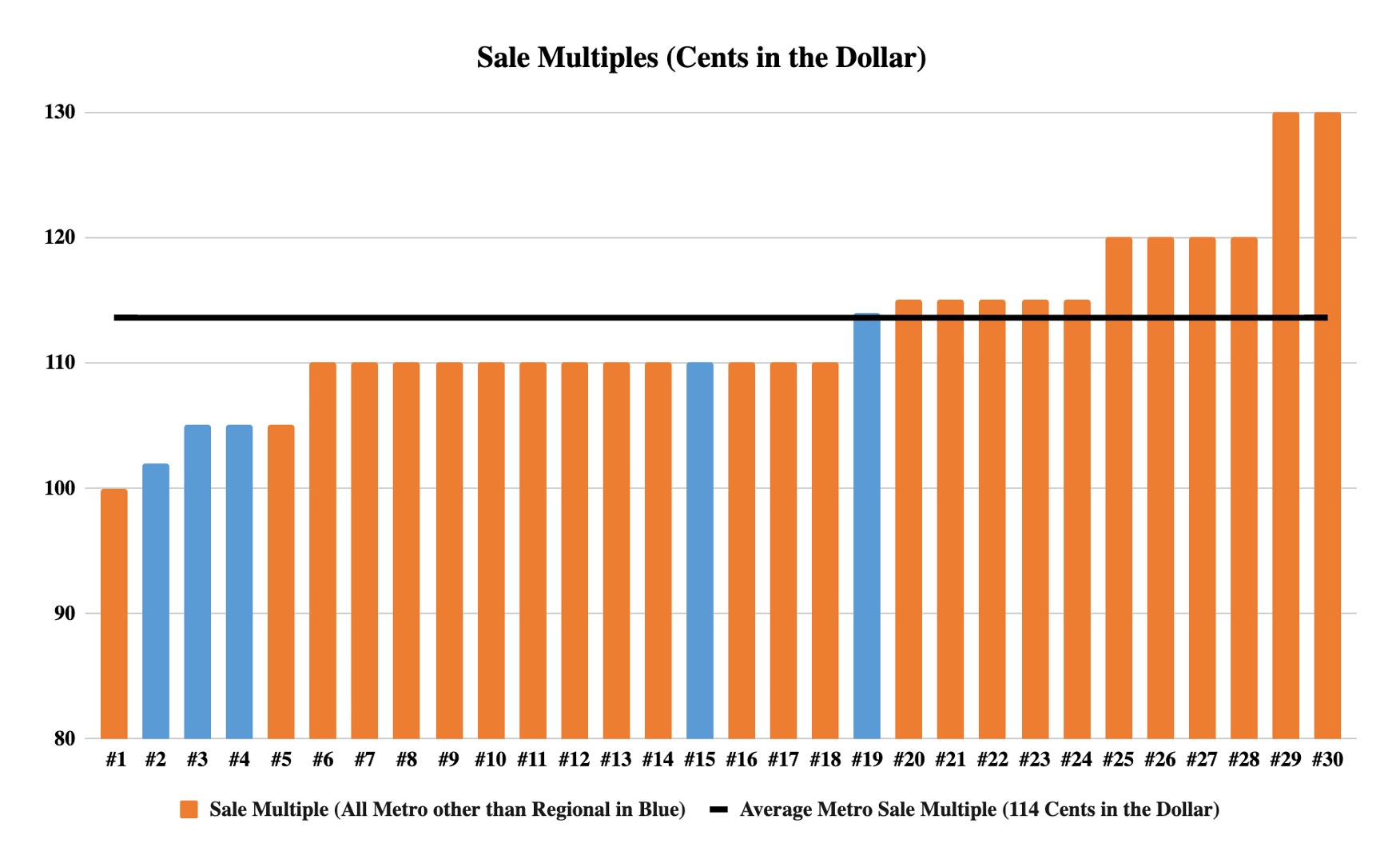 He said buyers also looked at a firm's client mix, profitability, location, fees per partner and operational efficiency but there was no correlation between practice size and sale multiple.
Metro practices averaged 72 potential buyers per listing but regional firms still attracted an average of 30 buyers. Among purchase motivations were practice growth and – especially recently – talent acquisition.
"It's extremely difficult to find good people. You're selling the goodwill and the fee base, but what the buyer is doing by default is taking on the people. There are very, very few practices sitting there with a team of good quality accountants with no work to do."
It had become a seller's market since the pandemic and sellers themselves had changed.
"We are selling more practices than before Covid. If we had 10 times as many practices, we'd be able to find buyers for them.
"Another dynamic is an increased diversity of sellers. Five years ago, the vast majority of sellers were older male retirees, and now you're seeing a lot more diversity.
"We're had, for example, female clients in their 30s and 40s who've built a successful practice and then wanted to go on to something else or have a lifestyle change.
"We're seeing more firms looking to merge in with larger firms where they've had an entrepreneurial owner who's almost maxxed out and how far he can take a practice on his own.
"We've had people selling who love working with clients, but actually have had enough of running a business. They're looking not to transition out but actually carry on working from another five to 10 years.
"What you're seeing now is a lot richness in the type of people selling and the reasons they're selling."
Turnover was fast with 80 per cent of practices taking less than 90 days to go from listing to execution of a heads-of-agreement with the preferred buyer.