There seems to be a well-established misconception that advisory work should be performed on the small group of 'A-type' clients from which a firm can make a decent return. Every firm has those clients, but many are missing the opportunity to turn advisory work into a must-have compliance-based service offered to ALL business clients. By implementing some simple processes your firm will:
Achieve an excellent return on your advisory software investment

Increase the value of your services to your clients

Genuinely help your clients improve and understand their business

Generate opportunities to add more chargeable work that your clients will happily pay for
How do you achieve this?
Using online software such as Cash Flow Story, the process simplifies right down to the following:
Get a copy of your client's last two sets of accounts

Input the three most recent years into Cash Flow Story

Email your client their Power of One directly out of Cash Flow Story

Arrange a follow-up meeting over a coffee
The Power of One table below shows your client how they can improve their cash flow and profit by making some small changes to their seven business drivers. With Cash Flow Story you can agree on the strategies with your client and show them instantly how those small changes can improve their businesses.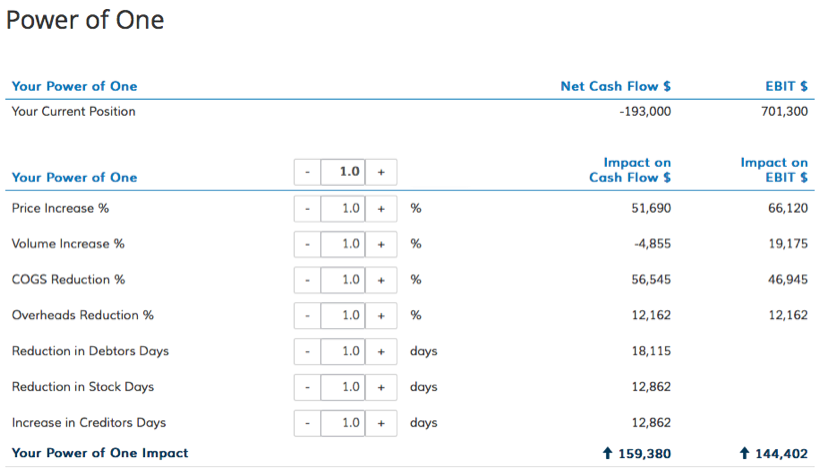 The entire process will take you around 15 minutes. When you see your client, simply open Cash Flow Story on your laptop, iPad or tablet and have a Power of One improvement conversation with them. In around five minutes you can help them set up some small improvements to key drivers in their business. Creating clear, consistent, achievable goals together will not only help improve their business, but give you the opportunity for regular, ongoing advisory discussions, possibly even converting them into A-type clients in the longer term.
Not only is the process outlined above chargeable, but even more importantly it starts your journey into advisory with a client by showing them how they can improve their profit, cash flow and, ultimately, the value of their business. What client doesn't want to know that? As an adviser, you can use Cash Flow Story to connect that desire for knowledge with a simple, easy to understand process to help them achieve their dreams and aspirations within their business.
To find out more about Cash Flow Story go to www.cashflowstory.com or call Joss on 0417 892 088.