Instead, I was at the Australian Accounting Awards wearing a suit (a much scarier costume). Those that know me, will know that last time I wore a suit was at the AIM Awards in November 2014, when the event organisers insisted I wear one. The time before that was at the Governor's house, when they assured me that they simply would not let me into the building wearing jeans.
So I donned my best suit and rocked up to the Westin on Martin Place, as Accodex had been nominated for the Innovator of the Year award. I was not expecting to win considering my competitors aggregate revenue being $53.5 billion. I was there to network and mostly to steal talented accountants for Accodex (sorry guys). Suffice to say when Accodex was announced as the winner I almost spat out my drink. Now that I've had some time to process our victory, I wanted to open source our innovation framework because there's nothing really magical about it.
Accodex is a start-up accounting firm based in Adelaide, South Australia. It was spun out of the merger between accounting firms Cirillo Hooper & Company and National Accounts.
Most of you would understand that the industry is currently in a state of disruption. Stuart Spalding and Rob Nixon both suggest that the key elements of the changes are:
Technology: The emergence of cloud and other technologies impacting practice management and document management
People: Outsourcing, staffing and succession-planning strategies for firms in the future
Systems: Procedures and tools creating efficiencies in successful firms
Clients: Their expectations are changing – they want everything to be better, faster and cheaper
I have taken it a step further and coined the term 'accountapocalypse' to highlight the current state of play in the accounting world.
In his 1998 classic, The Discipline of Innovation, management theorist Peter Drucker states that, "Opportunities for innovation can exist when there are changes to the industry and market." Knowing this, after the merger, Accodex was purposely built to capitalise on this state of disruption.
There is an English proverb that goes, 'Necessity is the mother of invention'. Many early innovations at Cirillo Hooper & Company were simply born out of necessity. This is an example of incongruent innovation as described by Drucker.
For example, our business was not serverless because of some grand design; it was serverless because we simply could not afford servers. Similarly, the fixed fee retainers were implemented because the firm could not afford to wait for money to come into the business. In a 2014 interview with In-business magazine, I simply said, "Sacrifices had to be made, which ultimately triggered some of the biggest innovations in the business."
Accodex isn't really that innovative in my eyes. We employed a few incongruent innovations because we were broke. We then used a simple framework – I heard Rob Nixon define this simply as: 'Rip Off & Duplicate'. We simply looked outside the accounting profession and observed the market leaders across the value chain that fit within our strategy. Here's what we found:
HR: Google looks like a really cool place to work. I wanted to work there but couldn't because I'd started this place, so we've been working on bringing a little Google into the Accodex office. We've still got a long way to go.
Marketing: Gary Vaynerchuk seems to be a prophetic crystal ball so far as digital marketing is concerned. My marketing team and I watch him and VaynerMedia very closely, in an attempt to adapt his tactics to our business.
Training: Have you ever been to a McDonalds late at night? It's run by teenagers! What ever they are doing on the training front, they're doing it right. So much so, that my head of HR is actually a form manager from the burger chain.
Technology: Ever since I started this business, I knew that Interactive Accounting and Growthwise are the ones to watch. I saw them as pioneers in the accounting technology space, and I am thrilled to have great relationships with both firms.
Innovation is not an invention, it is a lot of small improvements stacked on top of each other. If you want your firm to be more innovative, stop sitting under a tree waiting for an apple to land on your head. Take a hard look at the most vulnerable areas of your firm, find someone who is doing it better than you, and emulate them. Once you have fixed every leaky tap in the office, then you can spend as much time as you want under apple trees.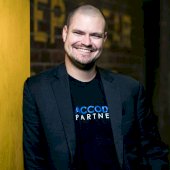 Chris Hooper is an accounting futurist, and current CEO of Tech Accounting firm Accodex. He is also a director of the Future Accountants Network, a member organization on a mission to educate tomorrow's accountants. He is a regular on the speakers circle and also consults to accounting practices to help them modernize their firms.
Accodex Partners was awarded Innovator of the Year at the 2015 Australian Accounting Awards.