I want to, for a moment, take a few things off the table if you'll humour me.
Let's assume in 10 years the following are true:
90 per cent of the compliance value chain will be automated
What's left is offshored to a lower-cost centre
Competitive forces do indeed reduce the price of compliance
Good, now that that's dealt with, let's look at the labour market, but first let me tell you a story.
My first mentor in the profession told me that I needed to get a job in the profession ASAP. That's all it took. I put all my energy into pursuit of a job in accounting and started as a junior accountant at age 19. In my first year, I did adjustment journals, basic returns, simple trusts and basic audit work. Yet, I had one of the best accounting educations one could get. I was working full-time at an accounting firm while studying at university and the Institute. I took what I was learning at school and applied it at university and vice versa.
I believe it was this practical education, apprenticeship if you will, that allowed me to achieve the level I'm at today. However, I fear that automation and offshoring will eliminate the beloved scut work and with it the training ground for our young accountants.
I fear that the next round of accounting students will not get the same quality education I received.
Assuming the whole industry does automate and offshore all of this scut work, what does the young accountant do when they start their career?
My hypothesis is that young accounting graduates will need to hit the ground running. They will be client-facing from day one. They will be expected to win clients, nurture client relationships and manage workflow with their overseas team. I can only imagine how 19-year-old Chris would have coped in that environment.
I am in quite a unique position in my career, as a university teacher, as CEO of an accounting firm, as a recent MBA student and as a mentor to numerous talented young accountants. I have also made a few observations:
My colleagues at the universities don't see a problem – business is booming and it's the profession that should take responsibility for practical education.
My peers in public practice say that grads are useless, and that the universities should take responsibility for delivering career-ready graduates.
The students I talk to find it difficult to get jobs and take it upon themselves to improve their skills through learning online and seeking internships.
The reality is that all parties have a role to play in addressing this competency crisis:
Universities need to be providing an industry-relevant education that includes the skills required for the accountant of the future
Practices need to adjust their expectations slightly, and build world-class training infrastructure
Students need to take responsibility for their own education, and accept that the world is not going to hand them a high-paying job straight out of university
We all know the industry is changing and we all have a role to play in its future success. If everyone reading this mentored an accounting student, we'd be one step closer.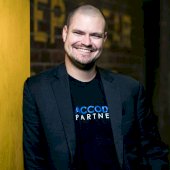 Chris Hooper is an accounting futurist, and current CEO of Tech Accounting firm Accodex. He is also a director of the Future Accountants Network, a member organization on a mission to educate tomorrow's accountants. He is a regular on the speakers circle and also consults to accounting practices to help them modernize their firms.
Accodex Partners was awarded Innovator of the Year at the 2015 Australian Accounting Awards.