During the past 12 years as a board member of the Rabbitohs and six years as chairman of national accounting and advisory firm William Buck, I have learned that the same principles of success are applicable to both business and sporting endeavours.
This month, as a long-standing loyal supporter of the Rabbitohs I experienced great satisfaction after seeing the team crowned 2014 NRL Premiers, an achievement 43 years in the making. This success also reinforced something I had observed over many years – there is no such thing as overnight success. It certainly wasn't for the Rabbitohs.
In 2006, Rabbitohs members voted in favour of allowing private investment by Blackcourt, a joint venture between Russell Crowe and Peter Holmes à Court. Their funding support proved to be a pivotal turning point for the club. They provided funds to improve both off-field infrastructure as well as enlist players who would make the club a competitive force in the NRL.
The second major turning point for the Rabbitohs was the appointment of Michael Maguire as head coach in late 2010. He brought greater accountability relating to player and coach performance to the club. Michael immediately asked for three assistant coaches to support his efforts – which he was given. He undertook regular one-on-one meetings with all of his players and coaching staff and made them accountable for every action they undertook. Everything was measured.
A clear line of responsibility was also drawn – Michael would be accountable for on-field performances of the team, including looking after the training regime, nutrition, injuries and preparation. The board and CEO would take responsibility for what happened off the field. There was an alignment between the teams on and off the field, with both working towards the same goal – a premiership victory. Everyone had a responsibility – from front-office employees to the players, coaches, board and CEO. A clear strategic plan was developed for everyone to see and be part of. A measure of success was seeing progress and building resilience across all personnel. The wheels were starting to turn cohesively and move in the right direction.
At William Buck, we have implemented a similar plan and made key people accountable for their actions. We set the goal of doubling turnover nationally within the next five years and becoming one of the leading players within the accounting industry for SMEs in Australia.
I have taken several learnings from my time at the Rabbitohs that I believe are equally applicable to business organisations. These include:
• Do not take shortcuts – a strong culture around work ethic and innovation is needed to build a sustainable business
• Past success is not a recipe for future success 
• It's important to run your own race and not follow your competitors
• Be prepared to deal with failure when it occurs and be responsive to changes
• Play to your strengths and understand your weaknesses, and build resilience across the organisation
Accountability, discipline and process are all success drivers. Good people will come and go, however never lose sight of what really matters by always keeping eyes firmly on the vision and goals which have been set.
Over the years I have sat on a number of boards and learnt something from all of my experiences. Sports organisations are known for being political, emotional and intense. High-performing, elite athletes are highly disciplined individuals. The tenacity to achieve is also required in the high-performing business world.
Ultimately what makes great businesses and sports teams is a clearly articulated vision with measurable goals, excellent resources, sound infrastructure, motivated people and a deeply ingrained organisational culture. Accountability is critical and ongoing investment is needed to ensure new ideas can be tried and tested to ensure momentum continues in a positive direction. Great leaders are front runners who never lose sight of the goals they are striving for.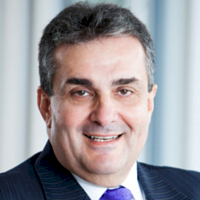 Over the past 25 years Nick has acted as an accountant and advisor to a range of businesses. He works to provide successful solutions to clients' problems, blending specialists and resources from across the firm to achieve this. Nick sits as a Non-Executive Director on a number of Boards including banking, sport and not-for-profit organisations. He has authored a number of papers that have been published both in Australia and overseas.