The telegraph is long gone of course but the drive to improve communication between people who are not in the same place continues apace. What is common about all the developments is the impetus to improve the quality and richness of the communication.
From dots and dashes to voices. From voices to video. Improvements so that the communication is in high definition, high clarity. Where will it end? Companies are experimenting with transmitting, smell, taste and touch. Smell has the potential to revolutionise healthcare, touch retail and taste – perhaps diets.
It is theoretically possible to transit three-dimensional holograms. Does that mean that we'll eventually get to the point that we'll be sitting across the desk having a conversation with someone who is actually thousands of miles away and we're just talking to their hologram but are none the wiser? A bit spooky perhaps but it seems with all the advances perhaps something like this might become common in this century.
But what about the here and now. Let's assume, perhaps badly, that the NBN will exist for most people sometime soonish. That will bring to almost everyone the capability to videoconference in high definition, perhaps in 3D (without glasses), but definitely with high clarity sound. Screen technology will make most work-station walls into screens so that every desk will have HD video conferencing capability. A new skill will be required for us all. How to present effectively to a camera!
With this quality of communication, what are the opportunities? The most obvious is to improve the richness of client engagement. Think not about Skype, think of broadcast television quality communication.
We like to meet face-to-face as we can better read the body language which, after all, is a major part of human communication. But as the screen and data communications technology improve, more and more of the body language will be readable from the quality video communication. Maybe, business travel will not be required as much as is it today.
So could firms use this by having more frequent, but shorter meetings to create more regular and rich engagement thereby enhancing their client relationships? There is a drive to be discussing what's happening in the client's business here and now rather than what happened last month – could this technology be an important part of that engagement?
These technologies are capable of removing the tyranny of distance once and for all. Firms with a particular speciality may be able to have rich engagement with their client thousands of miles away. Smaller firms will be able to compete with large in building and sustaining relationships on the other side of the planet. It's all just part of the ongoing digital disruption of the profession.
At ATSA (Accountants' Technology Showcase Australia) held in Melbourne on October 20–21, we will have some sessions dedicated to this topic. In particular, we will be showcasing WebcastCloud, a company that has technology to broadcast events at very high quality. Digital disruption is also impacting conferences!
For the first time we will be providing the opportunity for those who cannot attend ATSA in Melbourne on October 20–21 to experience a limited number of live sessions via webcast. In particular, our opening CEO open forum and debate featuring all the leaders of the major technology providers to the profession will be broadcast live via webcast. Not only does this provide an opportunity to participate in the event remotely but also gain an understanding of the capability of these new technologies.
So accountants now have more to think about. How might they communicate with clients in the future? What new opportunities are presented by extending a firm's reach?
I wonder if we'll ever see the day the office commute may go the same way as the horse and cart. If you live in Sydney it couldn't come soon enough !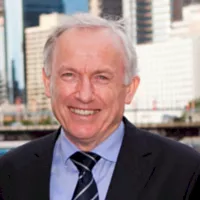 is a founding director of Smithink 2020. He is the external practice advisor to many firms participating in firm management activities to provide an objective viewpoint and an understanding of strategies that have achieved success in other firms. For over 16 years David was a partner at PKF (now BDO) Sydney where he created a significant software business which was sold to MYOB. He is a regular speaking on topics relating to the future of the accounting profession, business strategy, process improvement and innovation. He is also the advisor to businesses that provide products or services to the accounting profession.