Governments don't know how to tax this world. Where's the taxing point when the business is on a server and the server is in another country, in international waters, on a satellite or perhaps in the future on the moon, an asteroid or Mars? It will get worse as 3D printers allow physical products to be shipped virtually. It does your head in.
So it's understandable that many don't trust this brave new world or cannot adjust to the new way of living or working.
The accounting industry has enjoyed one of the longest product life cycles in history – only surpassed by perhaps one other profession. Keeping accounts, preparing reports, filling in tax returns, auditing financial records, in some form or another, have all been the mainstay of our profession for hundreds of years. In recent years the PC revolution that gained momentum in the 1980s created dramatic efficiency improvements and significantly reduced human error.
But now this "digital" thing is different. The building blocks of accounting are being automated. Intelligent data feeds are eliminating large amounts of bookkeeping. Data mining tools are enabling auditors to automate the review of millions of transactions. Communication technologies are widening the pool of labour and changing how we engage with clients. Online collaboration provides opportunities and new forms of client relationships built around sharing of tasks and data. With video communications in high definition, client engagement may be shorter but more regular and most importantly more relevant. The discussion will be about what's happening now rather than last week, last month or last year, which has been the tradition of the profession.
At the Accountants Technology Showecase Australia (ATSA) 2014, held in Melbourne on October 20–21, we will see a large array of new technologies from almost 50 companies that will continue the digital disruption of the accounting profession. The challenge though for many firms is not just keeping across all the available technologies, it is to transform their firm's processes, services and client engagement model to harness these technologies. It requires a willingness to experiment, a willingness to fail. Every firm should be running pilot programs to test new models – an innovation mindset is needed. At ATSA we'll be hearing from Jason Bender, partner at Deloitte Digital, about the digital disruption of the accounting profession and more importantly how firms can capitalise on the opportunities. The tax man will also be there to talk about their own digital program and the effect it will have on practitioners.
So what's a poor practitioner to do? I suppose if you're my age you could find a Gen Y to buy you out so you can put your feet up and read a book (oops, Kindle). But why would you do that? There has never been a more exciting time in the profession. New firm models are emerging. Firms that live in social media, specialist firms that service clients across the country, across the world, firms that are embracing the automation of bookkeeping and seeing new ways to work with their clients, firms that are accessing talented labour across the planet.
So it it might be a white-knuckled ride and the temptation to get off and catch some fish might be there, but for me it is so, interesting, so challenging, so exhilarating that I have no intention of getting off – embracing the digital world is for me!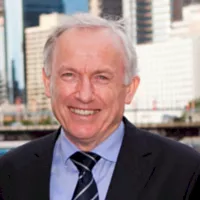 is a founding director of Smithink 2020. He is the external practice advisor to many firms participating in firm management activities to provide an objective viewpoint and an understanding of strategies that have achieved success in other firms. For over 16 years David was a partner at PKF (now BDO) Sydney where he created a significant software business which was sold to MYOB. He is a regular speaking on topics relating to the future of the accounting profession, business strategy, process improvement and innovation. He is also the advisor to businesses that provide products or services to the accounting profession.